Posted date 03.03.2021
Australia's Remotest Coastlines NEW Adventures with Coral Expeditions in 2021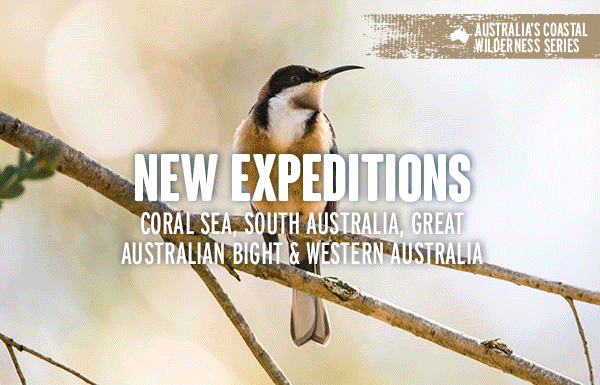 In 2021 Coral Expeditions are drawing on their pioneering spirit to explore the outer edges of the Australian continent, including small islands and reefs, world heritage areas, national parks and rugged shorelines. These voyages offer true explorers the rare opportunity to visit natural destinations inaccessible to most. Enjoy intimate encounters with our endemic marine species native animals and seabirds. Learn about the history and geology of the land from our expert expedition guides and lecturers. After each day of exploring, enjoy warm Australian hospitality, and cuisine and wine inspired by regional Australia.
This new series begins with state-of-the-art expedition ship 
Coral Adventurer
 travelling south from Cairns, exploring the outer fringes, atolls, and marine sanctuaries of the Coral Sea before calling on Brisbane. Coral Expeditions then take in the harsh beauty of the Southern coast with two unique voyages that track westwards across the Great Australian Bight and onto Fremantle. Their final voyage explores the uninhabited island outposts of the West Coast before arriving in Broome. Scroll down for a closer look at each.
---
Outer Reefs & Cays Of The Coral Sea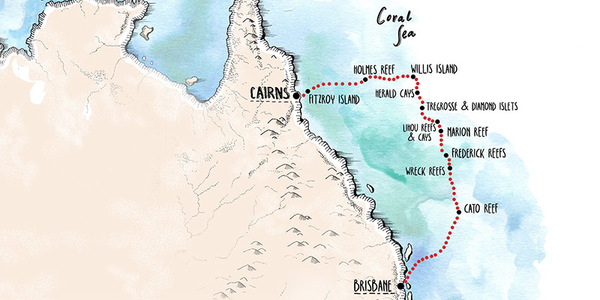 This voyage uncovers the biodiverse ecology, intriguing maritime history, and the outer limits of the Great Barrier Reef and Coral Sea. Plunge below the surface into the extraordinary habitats where abundant marine life awaits. Explore one of the world's best dive sites at Holmes Reef, and snorkel at some of the Coral Sea's most remote reefs, such as Marion.
Along the way, step ashore on deserted cays at Herald Cays & Diamond Islets for beach combing, hiking, and relaxing sunset drinks. Get close to nature with opportunities for incredible birdwatching, and snorkelling among vibrant schools of pelagic fish and green sea turtles.  Our expert guides will share great stories and insights of Australia's maritime history.
12 Nights | Cairns to Brisbane
from $6,990 pp sharing
---
Wild Islands & Walks Of South Australia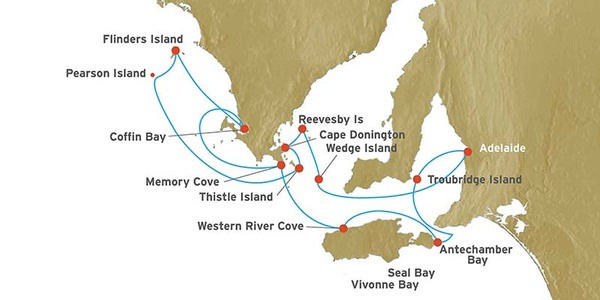 This voyage offers the opportunity to explore and hike South Australia's wild islands, where forested National Parks give way to sheer wave-carved cliffs and sweeping white-sand beaches. A highlight of the itinerary is a series of guided trekking excursions through coastal nature trails and to rugged island outlooks where guests will be rewarded with sweeping ocean vistas. Hosted by expert guides, including Kangaroo Island resident and well-known writer and photographer Quentin Chester, learn about the flora and fauna of this habitat.
Cool down with an invigorating ocean swim or enjoy kayaking in the beautiful turquoise waters at destinations such as Antechamber Bay on Kangaroo Island.  Less-visited islands, such as Hopkins Island and Wedge Island, offer the opportunity to encounter charismatic native wildlife – inquisitive Australian sea lions, bettong, fairy penguins and rock wallabies.
10 Nights | Adelaide Return
from $6,390 pp sharing
---
Across The Great Australian Bight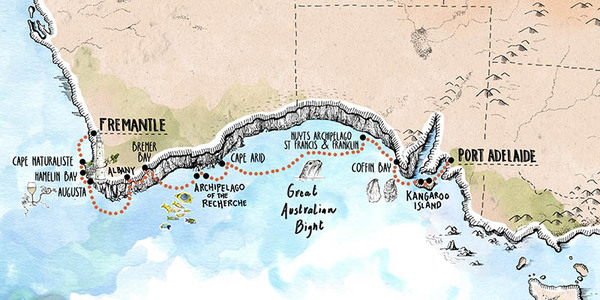 Set sail 
Coral Adventurer
 on an all-new 13-night expedition immersion into the wild nature, rich history, and unique coastline of Australia's southwest. A once-in-a-lifetime opportunity to cross the Great Australian Bight, this voyage will visit hard-to-reach islands and iconic National Parks along the south coast. Enjoy guided walks along the vast and secluded beaches at locations such as Cape Arid National Park, Cape Le Grand, and Bremer Bay. 
Among the scattered islands and outcrops of the Archipelago of the Recherche, discover remote breeding grounds of sea lions and follow the snorkel trail at Shearwater Bay to spot the elusive Leafy Sea Dragon. As we round the southwest edge of Australia discover enjoy time ashore with sunset drinks with the kangaroos at Lucky Bay, a visit to extraordinary Jewel Cave, swimming with stingrays at Hamelin Bay, and walk amongst the vines.
13 Nights | Adelaide to Fremantle
from $8,290 pp sharing
---
Abrolhos Islands & The Coral Coast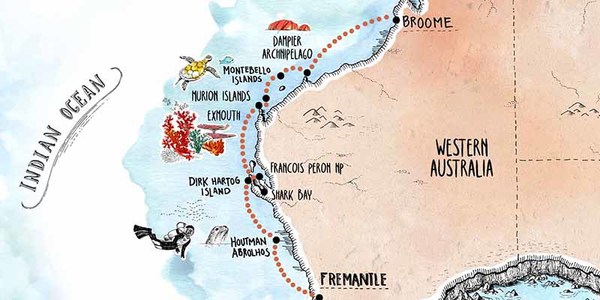 This expedition explores Western Australia's wild and largely untouched coast, with its contrasting coastal palette of rich red sands and turquoise sea.  With a fascinating maritime and Indigenous history – from the Malgana people of Shark Bay to the exploratory journeys of William Dampier, Dirk Hartog, Baudin and Freycinet – this region is layered with stories. The natural coastal reserves harbour an abundance of bird life and fascinating marine species. Coral's guides will help guests explore the renowned Houtman Abrolhos Islands, Shark Bay World Heritage Area, Ningaloo Reef, Cape Range National Park and more.
12 Nights | Fremantle to Broome
from $9,290 pp sharing
---


Coral Expeditions have put in place a range of measures and associated protocols to manage our expeditions in a world in which COVID-19 exists. They have partnered with 
Respond Global
, an experienced medical advisory agency, to assist us in developing a prevention and response system that is among the most thorough in the world.
Coral's plan focuses on prevention, to target a 100% COVID free environment onboard. They implement a three-tiered medical screening protocol and ensure everyone on board has passed through this screening process. This prevention protocol is supported by strict onboard mitigation actions and an approved response plan.
This plan will be supported by their Standard Operation Procedures, developed for each vessel with cruise profile specific requirements. These procedures have enabled them to maintain a high standard of safety and guest comfort for over 35 years.